When Rainbow's Walk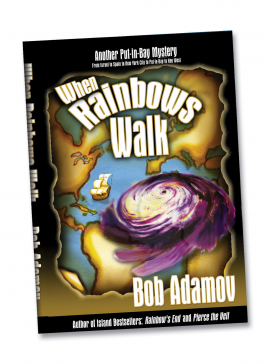 From Israel to Spain to New York City to Key West to Put-in-Bay

When the treasure-laden Spanish galleon, The Atocha, sinks off the Marquesas Islands during a 1622 hurricane, its $400 million in treasure remains untouched for 351 years until it is discovered by treasure hunter, Mel Fisher, and moved to Mel Fisher's Treasure Museum in Key West.

A ruthless terrorist on the run from Israel's Mossad and a die-hard Mafioso in the Federal Witness Protection Program, hunted by contract killers, find themselves drawn into the unlikely partnership of heisting Mel Fisher's treasure during the middle of Hurricane Charley.

EMERSON MOORE, the Washington Post investigative reporter and resident of Lake Erie's South Bass Island resort town of Put-in-Bay, heads on assignment to Key West to cover the hurricane's impact. Joined by his ex-Navy SEAL sidekick, SAM DUNCAN, EMERSON MOORE finds his assignment taking a dramatic change as he is lured into a spider web of intrigue. Filled with murder, fights, underwater action, sunken boats, double-crossing, shark attacks, drug running, and boating thrills; When Rainbows Walk takes readers to exotic locations satiated with unforgettable characters and a surprising climax!