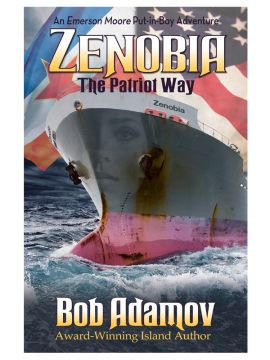 NOW AVAILABLE! Zenobia: The Patriot Way
From Croatia to Put-in-Bay to Toledo to Naples In 1991, a young EMERSON MOORE is given his first major investigative reporting assignment. He becomes ensnarled in the midst of the Serbian-Croatian war in Vukovar, Croatia. Moore gets in the cross hairs of a blood-thirsty Serbian paramilitary commander MARKO MARINKOVIC, known as the VUK (Serbian for Wolf), and his wolf pack. Besides committing atrocities against the Croatians, the Vuk is involved in international human trafficking and covets a beautiful, young Croatian orphan girl, whom Moore tries to protect. The story advances to current time with Moore enjoying life in the Lake Erie island resort village of Put-in-Bay when a woman's murder and the disappearance of two teens entangle Moore in the world of international trafficking. Moore goes undercover in the trafficking gateway city of Toledo, Ohio, and finds himself transporting victims along the I-75 corridor to the BOSS in Naples, Florida. Moore's life is further complicated when the Vuk resurfaces and is intent on finishing off Moore. From dodging bullets and incoming shells in Croatia to the horrific death of his wife and child in Washington, D.C., Moore rides a roller coaster of emotional twists and turns, plunging him to the depths of despair and taking him to the heights of redemption. Filled with an array of colorful characters, Zenobia bursts with action and intrigue.
Sound Options
To disable or pause the background music. Look for the blue tab at the top right of the page and click on pause.